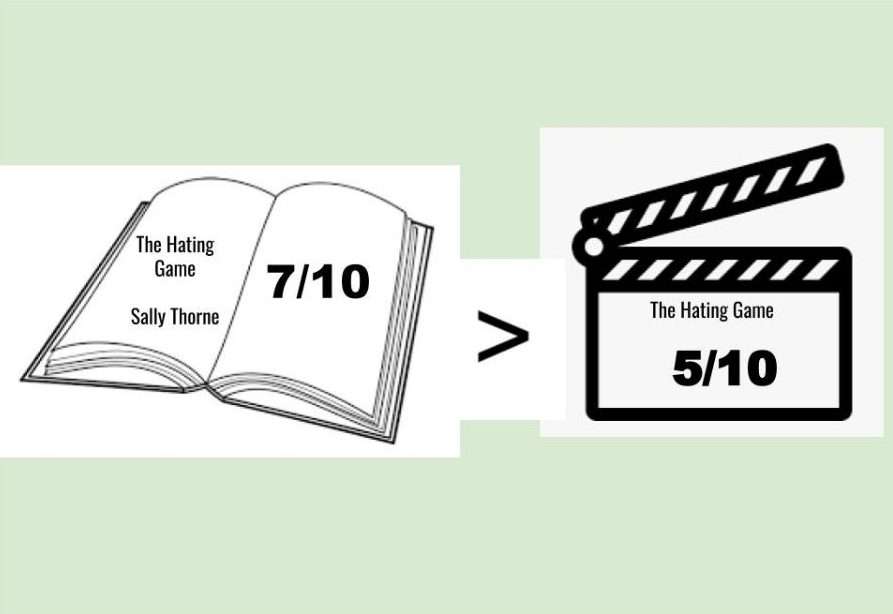 Morgan Dalton
A commonly held debate among readers and moviegoers is which rendition is better? The book or the movie? For me, I decide on a case-by-case basis, and it depends on how the plotlines differ. Recently, the novel "The Hating Game" by Sally Thorne was developed into a movie starring Lucy Hale and Austin Stowell. The romantic-comedy premiered in theaters on December 10.
The book is the ideal lighthearted vacation read. The premise of the novel is that Lucy Hutton, a people-pleasing, flamboyant woman, is up for the same promotion as the cruel, uptight Joshua Templeman. Both characters are determined to beat out the other. However, their subtle respect and attraction to one another are never mentioned, instead hidden by childish games and falsified animosity.
This competitive dynamic suddenly changes at a company bonding event when Hutton gets sick and Templeman proceeds to show worry and take care of her throughout the night. He even goes so far as to call his brother, who is a doctor, to check up on her. Templeman's brother, Patrick, takes a liking to Hutton and invites her to his wedding. The wedding brings Hutton and Templeman closer together, helping to explain Templeman's sour attitude. Hutton even ends up defending Templeman to his highly critical father, who continuously berates him throughout the event. The heart-warming novel was lovely to read and truly highlighted the unique girl and stoic boy relationship.
The movie, on the other hand, lacks depth the book portrayed and comes out as a baseline story. The movie producers also changed parts of the plot that I was partial to as well as completely removing some of my favorite scenes. While the movie is still good and does show the hate-love dynamic, it does not depict Hutton's feelings like in the book. . In the movie, Hutton's actions do not seem rational. When you have a window into her mind as was provided in the book it is easier to understand her actions. In both the book and movie, after Templeman takes care of her when she is sick Hutton kicks him out of her apartment However, in the book, you can see why she does it: She thinks he is trying to get into her head so he can win the promotion. However, that is not portrayed in the film, and it looks as though she just kicked him out after he had acted really sweet.
In the movie she comes across almost entitled and impulsive; however, in the book she always thinks things through, hence another difference between her and Templeman. Templeman iss the one to act on impulses and stir the pot with Hutton. Despite these differences, the movie is not entirely different from the book. Templeman challenges Hutton to grow in both mediums. For example, when he encourages her to stand up to an employee who has been walking over her. He learns from her openness and warmth, and she learns from his assertiveness and determination.
Unfortunately, a critical part of this plot element was overlooked. In the book his drive is crucial to his character; however, in the movie it was almost skipped over. It minimizes the sacrifice he made when giving Hutton the promotion instead of keeping it to himself. In terms of Hutton, her bold nature was minimized. Although she does stand up for him in the movie in the book it was far more significant and profound.
The movie is still a romantic comedy and has its funny moments, but it does tend to skip over certain aspects and dramatize other parts that I didn't think were as important. I would rate the movie a 5/10 and the book a 7/10. Both are good in their own ways although I felt the book displays their connection and feelings better.