Hajime Sushi Resturant
A delicious treat that is often saved for special occasions, sushi is a taste of Japanese cuisine that people enjoy throughout the world. A characteristic that has allowed it to be so popular is its diversity. A sushi chef can create almost any flavor combination in the form of sushi. It can be sweet, salty, sour or tangy. It can have raw fish, cooked fish or just vegetables. Those looking to experience the unique taste of sushi should consider Hajime, a Japanese restaurant with a large selection of sushi.
One menu item from Hajime that would appeal to almost anyone is the Crunchy Roll. This bundle of delight features a shrimp tempura filling and a crispy topping of toasted panko breadcrumbs. The flavors combined with the texture are well-suited for those who are familiar with California Rolls. Combined with Hajime's classic chicken fried rice and a side of sweet Yum Yum sauce – a mixture of mayonnaise, ketchup and garlic powder – the Crunchy Roll stands as a testament to the staggering potential of this restaurant.
For those who desire intense flavor, look no further than the Spicy Crab Roll or the Spicy Tuna Roll. The Spicy Crab Roll is a warmed sushi dish, allowing for the cooked crab's flavor to diffuse throughout the mouth. The sweet meat falls apart with the first bite. The Spicy Tuna Roll, while just as spicy as the crab roll, shows its flavor through different manners. Where the crab roll is warm, the tuna is fresh. The raw tuna perfectly complements the sushi rice and spicy mayo, while leaving behind the crisp savor of fish.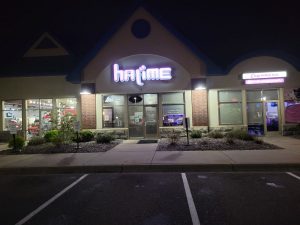 However, for some, meat simply does not hit the spot. Luckily enough, Hajime boasts a wide variety of vegan assortments. One of their Classic Rolls, the Avocado Roll is a perfect example of a unique, individualized flavor. Simple but filling, avocado rolls are loved by vegans and non-vegans alike. Consisting of white rice, avocado and cucumber, these rolls are a delicious treat for anyone.
Overall, Hajime is a wonderful place to take your friends and family. Hajime is located at Club West Plazain Blaine, right off of Central Avenue. Specialty Rolls which include Crunchy Rolls, Fuji Rolls and Mango Rolls range from $8.95 to $11.95. Their Classic Rolls such as the Spicy Tuna Roll, California Roll and Boston Roll cost anywhere from $2.95 to $7.95. For reduced pricing, it is best to come during Happy Hour which is 2:30-6 p.m.,9 p.m.-close and all day on Sundays.
Final Verdict: 5/5