Sumo and Smoh
Serving food like egg rolls, fried rice, and other East Asian cuisine, Sumo and Smoh is an interactive dining experience. In addition to their amazing service and food, this restaurant provides escape room-like puzzles and virtual reality games.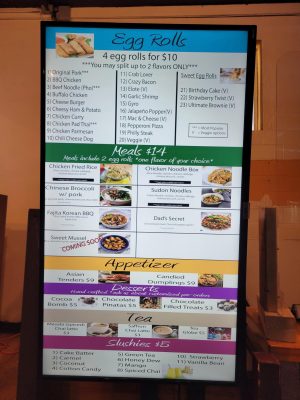 A dish I especially recommend is the fajita Korean barbeque. The meat melts in your mouth, and its flavor was exceptional. The bell peppers and rice added depth to the dish, as well as making it more flavorful. The quantity was huge, and I had enough food in front of me to last me two whole meals.
The restaurant had so many fun eggroll flavors to try such as gyro, the crazy bacon egg roll, Philly cheesesteak, and chicken parmesan. I had the crazy bacon egg roll, and it had the crispy texture of a traditional egg roll, but the bacon inside gave it a nice western flavor that really elevated it to another level. . The gyro egg roll I also ordered was delicious as well. It tasted very similar to a Greek gyro. Additionally, the egg rolls were very fresh, and they were so hot that I had to eat them carefully.
Sumo and Smoh also offers create cocoa bombs. Cocoa bombs are similar to bath bombs, but you put them in milk to create a hot chocolate-like drink. I ordered the firework cocoa bomb, which included vanilla, peppermint, marshmallows and, best of all, pop rocks. One of the owners there, Smoh, made them right in front of me. When I poured the hot milk over the cocoa bomb, it immediately began to fizzle, and the chocolate melted into the milk to revealed the peppermint and pop rocks inside. It was very cool to watch, and the drink tasted great too. The pop rocks added a fun effect, and I felt them popping in my mouth when I took a sip.
In addition to the unique and delicious food, this restaurant keeps customers engaged. They offer customers virtual reality games that are fun to play. My favorite was fruit ninja because I thought it was fun to experience a game from my childhood in a new way.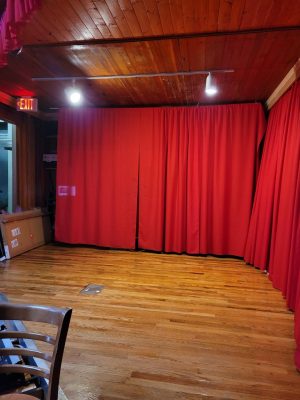 The restaurant also had escape-room-like puzzles, which my family attempted. I would not recommend them unless you have time on your hands. It took my family over an hour to solve the puzzle.
The service was wonderful and both the owners were very welcoming, attentive and helpful. The pricing there was also appropriate. The entrees were $14, which included a large portion of food a nd two egg rolls. The cocoa bombs were only $5, which is reasonable considering how different and cool they were. I would definitely recommend Sumo and Smoh to anyone who wants to have a fun time with family and friends, while enjoying some delicious, fresh food. This restaurant is located at 1579B Hamline Avenue N, Falcon Heights. They are open Wednesday through Sunday from eleven am to 7 pm.
Verdict 5/5