Was the Block Schedule a Success?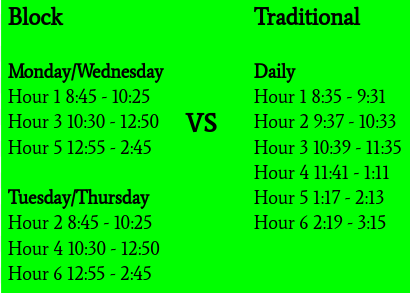 At the beginning of this school year, Mounds View High School adopted a block schedule. Currently, students attend extended versions of their first, third and fifth hours on Mondays and Wednesdays, and their second, fourth and sixth hours on Tuesdays and Thursdays.
Throughout the year the schedule has gone through minor revisions, but its ineffectiveness remained. One issue is that each class period is two hours, which is too long for any student to focus, let alone retain everything. Due to this, many teachers elected to cut instruction time short to give students a break. However, this choice decreased the amount of time spent learning.
Even though a majority of class ends up being work-time rather than lecture time, the absence of a two-hour lesson plan reduces the amount of instruction time. This ends up pushing timelines back. By the end of the year, students did not know as much as they typically would. The block schedule is especially unfavorable for Advanced Placement classes. Course work for these classes cannot afford to become less rigorous, as the class's purpose is to prepare students for the AP exam. Therefore, reducing the time spent learning jeopardizes students' AP exam readiness.
Not only is there a decrease in lesson time due to teachers choosing to give students much needed breaks during the two-hour class period, but Fridays are no longer used for instruction. Fridays, which are now "Learning Plus Days," are essentially study halls and results in, at most, only four hours allocated to each period per week. However, "Learning Plus Days" can be quite advantageous for students who are behind in their classes or need additional help with the material. The break in class and structure also holds the potential to benefit students' mental health, as the increase in work time gives students more freedom for homework, studying and free time.
Before the block schedule, each class period was taught for an hour each day and mainly focused on information and instruction, rather than the work time that seemed to fill many classes this year. On top of fewer days in a week allotted to learning, the school day is now half an hour shorter than normal. Again, there is a clear loss in learning time. However, this holds the potential to focus more on each subject, as there are fewer classes in a single school day. This could potentially be preferable for some students and cater to the way they learn.
The block schedule that Mounds View implemented this year was not able to maintain a normal year's standards of rigor. It took away from the time students are usually given to learn content, and as a result, compromised student engagement as well as the amount they were able to comprehend and retain. Luckily, next year, students will be able to attend each of their classes every day.