Duck, Duck… Baby Ducks?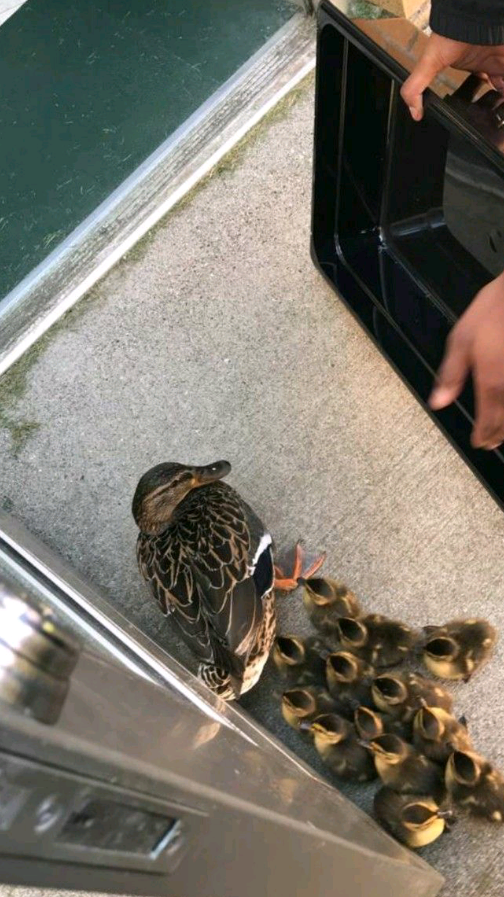 Kailey Newcome, Editor-in-Chief 2016-2017
May 7, 2017
Moans, groans and the usual complaints about standardized tests are what most students expect during AP season. However, on Wednesday afternoon, Mounds View students were in for a surprise as a group of chirping ducklings waddled their way around the school.
These newly hatched ducklings took shelter under a tree in the courtyard, while students in classes with overlooking windows took pictures and videos for their Snapchat stories. Soon enough, the baby ducks became Mounds View's de facto mascots for the day. However, students and staff quickly found that the birds weren't just taking shelter; they were trapped within the school walls.
Determined to keep the ducklings alive, legions of students and staff, led by Fit for Life and Health teacher Anny Culnane, mobilized to guide the ducklings through the school and safely out the back door. "We created a human barricade to lead them to the back door through the back gym," said Jocelyn Landwehr, 11.
Unfortunately, the trip to the back door did not save all the ducks. "The mom got spooked when she came in, flew upstairs, ran into a window, broke her neck and died. It was really awful," said Landwehr.
Despite this setback, all the ducklings made it out of the building with no harm and were brought to the Wildlife Rehabilitation center in Roseville. "They will live there, with warmth, shelter, food and water until they [become] waterproof, and from there they will go to another duck sanctuary," said Culnane. They will then be kept at this second sanctuary until it is time for them to fly south for the winter. At that point, they will be released into the wild.
While the Mounds View mascot will go back to Marvin the Mustang, students and staff won't forget the duck family that waddled its way into their hearts. Once a Mustang, always a Mustang… or duckling in this case.