Boys of winter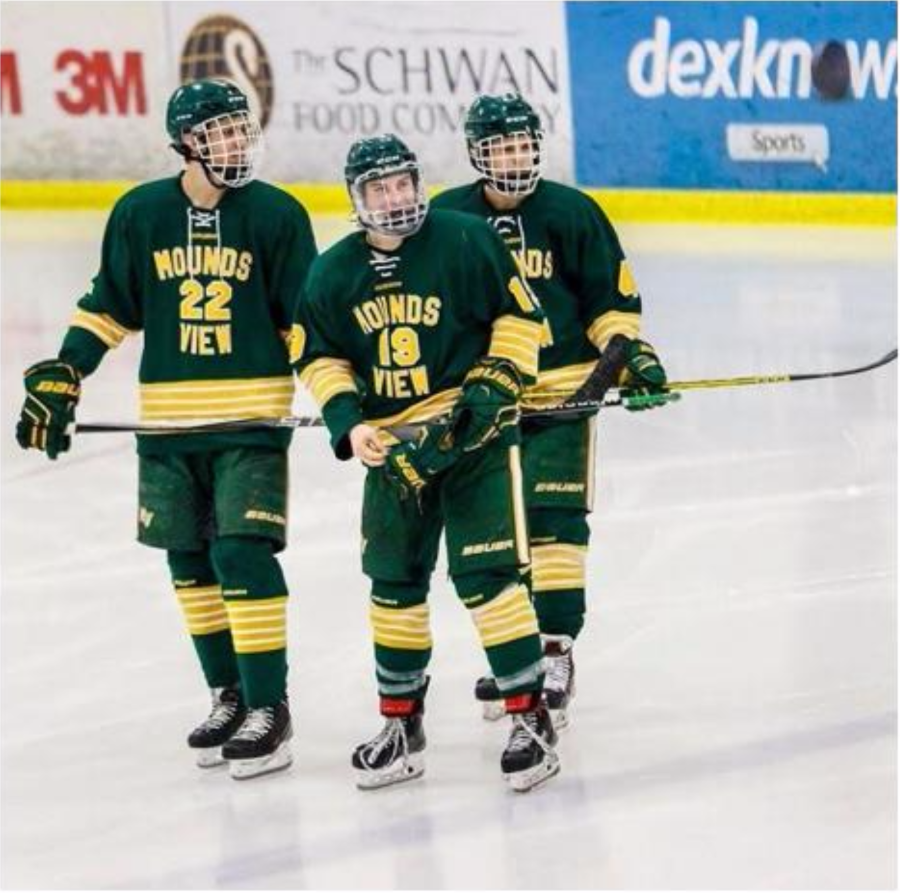 Aman Rao, staff reporter
December 22, 2016
The beginning of winter marks the beginning of the Mounds View boys hockey season. Hoping to continue the success of last year's great season, the boys tried out to demonstrate their skills and earn positions on the ice. They're now preparing for long, stressful game nights, hungry to bring home some excitement to the Mounds View crowd. With senior captains Wyatt Thole, Colin Baird, Tom Nagle and Spencer Ovshak leading the way, the team has embarked on a new season, one that hopefully ends with the Mustangs as section champions.
Mounds View's dedication and hard work allows athletes to achieve good results. "Hard work on the ice pays off during the games, and gives us wins," said Joe Sutton, 11. The Suburban East conference is very tough to compete in for hockey, with plenty of strong teams vying for one opportunity to attend state. Nevertheless, Mounds View is definitely a contender.
Though challenges are ahead, the players believe in themselves and the team shares an unbreakable bond. "This is a team sport. We are all brothers, always there for each other every practice, on and off the ice," said Peter Harrington, 11.
A unique tradition that Mounds View hockey players share is a link of key chains that has every teammate's name and their number. "The keys represent unity as a team. Everyone on the team then attaches the key chains together, to form one giant chain, and this represents that the team is only as strong as their weakest link, or in this case, player," said Sutton. This tradition has helped preserve team unity.
Leaders at Mounds View are a crucial part of what makes the sports society so unique and special. "I look up to a leader like Wyatt Thole, because of his skill, his leadership and his flow," said Harrington. He hopes to one day be as strong of a leader as his captains are this year.
Ovshak, 12, believes that he is ready to lead Mounds View into a strong season. "As a hockey team, we have presence, and as a leader, I will make the team the best they can be," said Ovshak. Combined with coaches Scott Brokaw and Darren Aho, the hockey team enters the season with high levels of confidence.
The Mounds View hockey coaches have put in multiple hours to ensure everyone that they are on a path to start the season with a bang and their hard work has been reflected through many of the players. "Our coaches are super positive and are always trying to bring out the best in us. They are always pushing us to do our best, and it has truly impacted our work ethic on and off the ice," said Adam Coltvet, 11.
Mounds View is known for its promising leaders and hard workers, and the boys hockey team is ready to face any challenges that may come their way. Anyone wishing to see the boys as they fight to make it to state can watch their home games at the Vadnais Heights Sports Dome.