Boys Basketball loses close game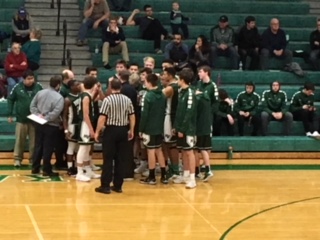 Ben Davis, Managing Editor -- Online
January 10, 2018
Hang on for a minute...we're trying to find some more stories you might like.
Boys Basketball fell to the Fridley Tigers, 81-69 last night, but the game was much closer than the final score shows. Fridley jumped out to an early 14-2 lead, but Mounds View remained undeterred. The Mustangs made a spirited comeback in the end of the first and beginning of the second halves, lowering the point deficit from as high as 18 to three, but in the end, they couldn't keep up with the high-powered Fridley offense.
Fridley was lead by senior forward, Nate Soto, who finished with 25 points, six of which came off fast break dunks. Mounds View's offense was also impressive. The Mustang's leading scorer, Josh Albers, 11, hit six threes and finished with 28 points. Center Michael Fahim, 12, also had a good game, with three blocks.
Despite the tough loss, players are taking some positives from the game. "We got better as a team throughout the game," said Fahim. "We just need to get better at finishing."