Pin it to win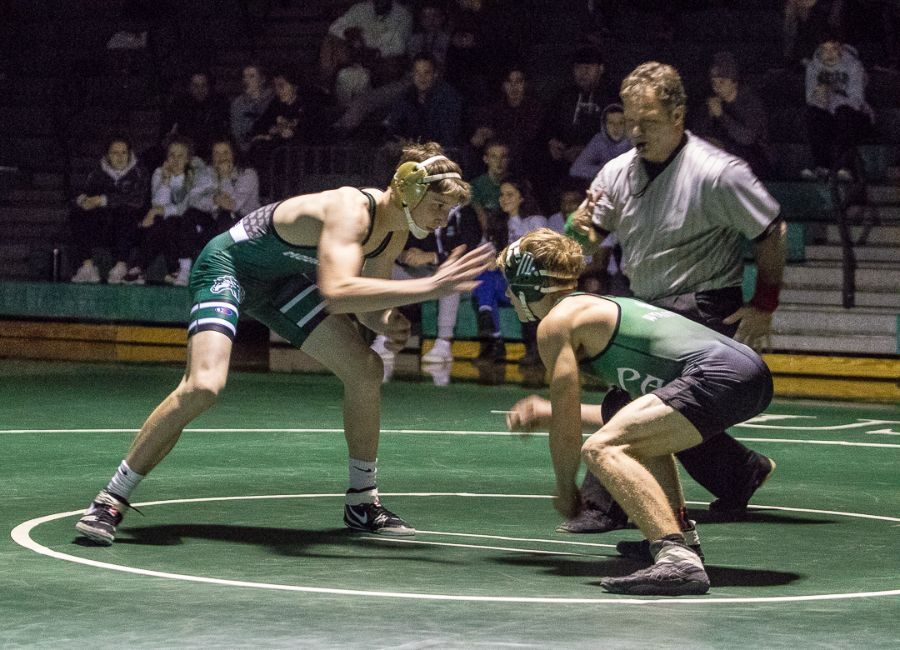 Jordan Van Laningham and Hannah Thalhuber
January 22, 2018
After great success last year and during the first half of this season, there is still much more left for the wrestling team to accomplish. Although it will not be easy, through practice and hard work, the team aims to place in the top ten at the state tournament.
At the core of most wrestling practices are the workouts. Wrestlers will do anything to prepare for their matches and duels, but sometimes, a little fun can help them prepare. "Sometimes we play dodgeball, and on Tuesdays, we do 40 minutes of live wrestling," said Pheaktra Chim, 12. By finding a way to fuse fun with practice, the Mustangs are able to work harder and be more passionate.
Neither these fun practices, nor the team's success at meets and tournaments would be possible without dedicated managers. "As a wrestling manager I take stats, enter stats online, film, fill water bottles and carry around equipment for wrestlers," said team manager Rachel Deno, 12. "We are not required to attend practice, but we do have meets every Thursday night and tournaments almost every Saturday." Not only do the managers help with little tasks for the coach, they also help motivate the team.
The Mustang's season began at the end of November, and they had their first tournament at Osseo in the beginning of December. Up until their first match, the wrestling team was focused on improving the physical aspect of the game. "I think we did pretty well as a team, but we could've done better on preparing before our matches and to not give up," said Garrett Wilson, 10. After this match, the coach homed in developing each player's mental game in order to stay focused. The Mustang's finished second in the tournament with 172 points falling behind Shakopee with 232 points. Although the team as a whole did not perform as well as they wanted to, varsity captain, Nick Dunagan, 11, earned his 100th win.
In the middle of December, the team competed in the the Minnesota Christmas Tournament which was held in Rochester. "That one had very tough competition, so making it to the second day was a big deal. We had more kids make it to the second day than we thought," said junior varsity head coach Christopher Hagel. "That one is actually a lot tougher than the state meet, because it has kids [from] all over the country." After that tournament, the team felt better as to their progress and knew how their competition could perform at the upcoming state tournament.
To finish off 2017, the Mustangs participated in the Rumble on the Red Tournament which took place in Fargo, North Dakota, placing 26th out of 85 teams. "It was a very tough tournament for the entire team. We had some really good wrestlers that didn't go as far as they wanted to, but it was good for those wrestlers to have that competition," said Grady Schierts, 10. Rowan Morgan finished in 5th place of the 182 weight class and Daniel Van Oort finished 7th place in the 195 weight class. As the end of the season approaches, the Mustangs eyes are on the state tournament, and they still have some big competitors to beat. "As a team we compete in a very tough conference so we will have to perform well," said Deno. "I believe we have a good chance at bringing at least four individuals to state."