Boys basketball puts on a senior night to remember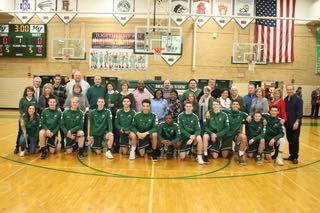 Hang on for a minute...we're trying to find some more stories you might like.
Mounds View boys basketball played in a Senior Night to remember on Tuesday, Feb. 27, defeating Park High School 72-51. Captain Colin Jones, 12, set the pace with an early three pointer, and Mounds View took a 10-1 lead within the first four minutes of the game. That rout grew to 17 points, with the Mustangs commanding a 35-18 lead at halftime. Mounds View continued its dominance in the second half, always staying ahead by at least 16 points. When the clock hit zero, the 19 point win was by far Mustangs' biggest of the year.
Captain Brendan Kauls, 11, led the team with 18 points. Jones scored 13, and Beejay Blevins, 12, and Josh Albers, 11, each provided ten. In a fitting tribute, all the seniors were given playing time in their last home game and helped contribute to the win. "It feels great to win on Senior Night," said captain Michael Fahim, 12. "Especially after we've struggled a bit this year, it's great to finish with a W."