Mounds View Baseball takes the field at Target Stadium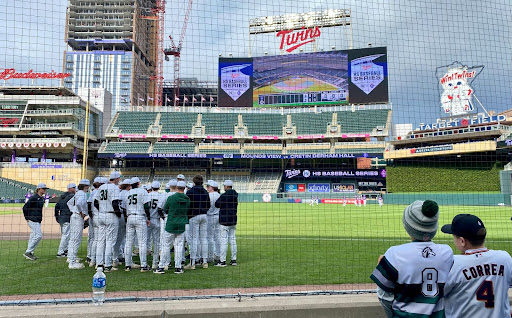 On Saturday, April 29, Mounds View's baseball team took to the diamond to warm up like they would any other game. However, they were not facing off against Cretin-Derham Hall on an ordinary field — they were playing at Target Field, home of the Twins, 30 minutes following a game against the Kansas City Royals.
This unique opportunity was part of a high school baseball series hosted by the Twins, which also included games for Minneapolis Edison, Minneapolis Roosevelt, Alexandria, Minnetonka and Wayzata. Unlike a regular season game, in addition to playing on a major league field, the event incorporated other features such as a public address announcer and the use of the club's new video boards and LED screens.
The experience was nothing short of exciting for all the athletes involved. "Playing at Target Field was a surreal experience because most high school players don't get the opportunity to play on a major league field," said senior Layne Bennett. "The energy there was high which killed some of the nerves some of us felt."
While junior Hayden Sperbeck initially felt nervous, he was able to overcome the nerves and savor the moment. "I was pretty nervous at first, but once I got out on the field and the game got going, I was able to get over a lot of that and just enjoy it," he explained.
For Sperbeck, a Twins fan, the experience was particularly enjoyable. "I enjoyed how nice the field was and taking in all the surroundings and the feel of the stadium. It felt pretty surreal to play there, especially growing up watching a lot of Twins games," he said.
During the game, Sperbeck maintained a balance between focusing on the game itself and relishing the opportunity. "I was able to keep my focus during the game by trying to stay present in the moment. I wanted to treat it like any other game while also enjoying playing at such a nice stadium," he said.
Mounds View, previously ranked second in the state, unfortunately fell to the top-ranked Raiders with a final score of 6-4. The Mustangs started strongly, holding a 4-1 lead until the third inning. However, CDH swiftly added three runs in the fourth to tie the game, followed by two more in the sixth. Despite their efforts, the Mustangs could not secure any additional runs against the Raiders' offense. Mounds View is currently ranked third in Minnesota behind East Ridge, and Cretin remains first with an undefeated record.
Despite Mounds View's loss, the game will remain unforgettable for those who played. "I think I'll remember the perspective of playing on the field and what it is like to actually be on it instead of watching from the stands," said Sperbeck.